Engraving specifications
Maximum part size and supported material
– Steel: ~400×400×70mm
 - Pre-hardened steel: ~400 x 400 x 70 mm
 - Aluminum: ~400×400×70mm
 - Stainless steel:~400×400×50mm
  *For details of materials and surface treatment, please refer to the table below.
Material and surface treatment for engraving
Classification
material properties
Surface Treatment
Steel

EN 1.0038 equiv.
EN 1.0038 equiv.(flat bar)
EN 1.0038 equiv.(annealed material)
EN 1.1191 equiv.(flat bar)
EN 1.1206 equiv.
EN 1.1206 equiv.(Reference Hardness: 20-27HRC)

No treatment
Black oxide
Electroless nickel plating
Hard Chrome Plating(Flash Plating)
Trivalent Chromate (clear)
Trivalent chromate (black)

Pre-hardened steel
NAK55 equiv.
No treatment
Aluminum

EN AW−2017 equiv.
EN AW−5052 equiv.
EN AW−6061 equiv.
EN AW−7075 equiv.

No treatment
Clear anodized
Black anodized

Stainless steel

EN 1.4305 equiv.
EN 1.4301 equiv.
EN 1.4401 equiv.
EN 1.4016 equiv.

No treatment
*For surface-treated products, the engraving process is carried out "after" surface treatment.
"Engraving is done either by "laser cutting" or "machining".
*You cannot specify the engraving process
 *You cannot specify the machining method."
Possible locations for setting engraving
The engraving instructions can be given on TOP, BOTTOM, FRONT, BACK, LEFT, and RIGHT surfaces (flat surfaces). *Pocket flat surfaces with a depth of 15 mm or less are also available for engraving.
Available number of engraving settings
Several engraving instructions are available for different surfaces.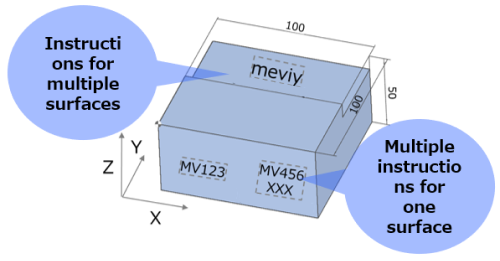 Half-width alphanumeric characters and some symbols (+-. #$%&()=*:? /_~) can be freely entered.
 *Line feed and space input are also supported.
Character size
3~15mm(Can be specified with 1 mm pitch)
17.5~30mm(Can be specified with 2.5 mm pitch)
*Font (font, spacing) and line spacing cannot be specified.
The angle can be specified in 45 degree steps (0 to 360 degrees).
 *The angle is only a rough standard value. Angle accuracy is not guaranteed.

Normal delivery time (5~ days), long delivery time service (20~ days). No additional delivery time due to engraving settings.
Quality precautions for engraving
1. Burrs and burn marks may occur on the engraving area.
2. Some characters may be smashed if a 3 to 5 mm engraving character size is specified.
3. Depending on the material and surface treatment, there is a possibility that the engraving characters may become blurred.
4 The letter size and angle of the engraving are only reference values. DimSensional accuracy is not guaranteed.
5. Depending on the content of the characters, there may be cases where the size differs from the specified size
6. Depending on the total length of the engraving, there is a possibility of discrepancies in letter spacing and height (ref.: 90 mm or more).