Logging In / Logging Out
You will need to log in with a User ID in order to use the meviy platform. For the User ID, you can use the ID you use for the Misumi Official Web shop ( E-Catalog) or the WOS (Web Order System) if you have one.

1. Click [Login / Register] on the homepage to display the login screen.
If you are logged in to Misumi Official Web shop ( E-Catalog), you will be logged in automatically to the meviy platform.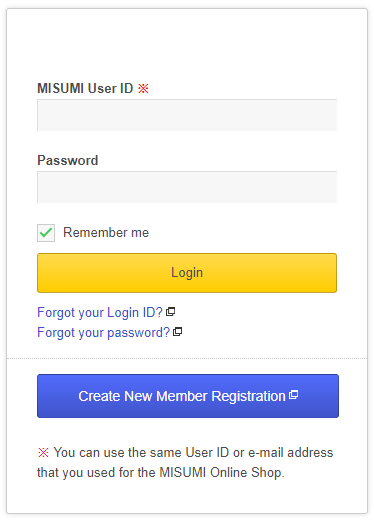 2. Enter your User ID and password on the login screen, and then click [Login].
After you have logged in, the Project List screen will be displayed.
Notes
If you do not already have a User ID,click [Create a new account] on the login screen to register your details.
If you have forgotten your User ID or password, click [Forgot User ID? Forgot Password?] and enter the required information to reset your password or to query your login ID.

1. Hover over your username and click [Log Out] from the User Menu.